This is the speech I delivered at the Workers' Party public forum, Youthquake, on 15 May 2010.
——————-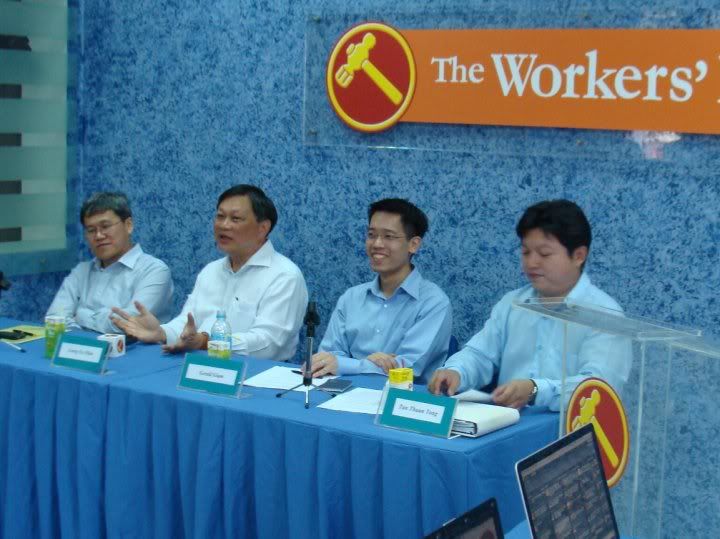 The drastic increase in the cost of public housing over the past 20 years, and in particular the last two years, has caused a financial squeeze for many Singaporeans, particularly young couples who desire to own their own homes when they get married.
In just the last two years since 2007, the median price of resale flats has risen almost 44 per cent.[1] This has far outpaced inflation and wage increases. The resale flat cash-over-valuation (COV) has shot through the roof. In the fourth quarter of last year, the median COV was $24,000[2].
The sky-high property prices threaten severe long-term effects for Singapore's future. Many young people delay getting married because of insufficient savings to place a down payment for their first flat, which has a knock-on effect on our birth rate and our ability as a nation to replace ourselves in the next generation. Others simply pack up and leave for other countries where they can buy a landed property with a garden plus a car, all for the price of a "squeezy" HDB flat.
Most of those who remain will likely have to spend their entire working lives paying off their home loan. After the 30-year loan is paid off, they have exhausted their retirement savings and whatever they do have is locked up in their only "asset". Unfortunately their home is not really an asset since most of them can't sell it without losing the roof over their heads, and they would also have to pay an arm and a leg for another equivalent property to stay in.
It is clear that something needs to be done to lower the price of HDB flats to make them truly affordable to the average Singaporean. However, the solution to this problem is not easy. Whatever measures are put in place to reduce the price of flats for buyers could inadvertently disadvantage existing home owners who bought high and may end up selling low.
I have a few proposals on how we can lower the cost of public housing for Singaporeans, without causing excessive asset depreciation for current home owners. They are aimed at making prices of new or resale flats affordable for first time homeowners in the middle to lower income brackets.
Define 'affordable'
First, we need to define what "affordable" means in this context. The word "affordable" has been used again and again by the PAP government. The government's definition of "affordable" is that HDB owners do not have to spend more than 30 per cent of their monthly income paying off the mortgage of their flat.
While this measure is widely used by financial institutions to assess loan repayment ability, it is ludicrous to use it as a proxy for affordability. There are some serious flaws in this measure of affordability.
It is conveniently silent on the loan repayment period. In the early years, flat owners could pay off the loans for their flats within five years[3]. In fact many like my mother-in-law, who was then a factory worker, could even afford to pay for their new flat in cash. That is something simply too wonderful to imagine today!
These days the loan repayment period is stretched to as long as 30 years. If the owners upgrade their flats along the way, they may not even have paid off their loan by the time they retire. Things will get even uglier if they get retrenched or fall ill and are unable to service their home loans. Is this the kind of burden we want to heap onto Singaporeans?
Rather than judge affordability based on the ability to pay off their monthly loan instalments, we should look at other ways of assessing affordability.
A better way is to benchmark the median flat price divided by the median annual household income of HDB flat owners. This method is known as the Median Multiple. It is recommended by the United Nations and World Bank for evaluating urban markets.[4] The standard of acceptable affordability is that home prices do not exceed three times the annual household income.[5]
Based on Department of Statistics' median household income figures[6] and HDB's median resale prices[7], the Median Multiple for Singapore's 3-room flats is 8.2, which would be categorised as "severely unaffordable". Even if we were to factor in the $40,000 HDB housing grant available to first timers who live near their parents, the Median Multiple is lowered only slightly to 6.9, which is still deep in the "severely unaffordable" range. (Anything above 5.1 is considered "severely unaffordable".)
Refocus HDB's mission
The HDB's stated mission, according to its Web site, is to provide affordable homes of quality and value. However, since the 1990s HDB seems to have shifted its mission to focus more on increasing the value of homes than to ensure their affordability. This may be due in part to a deliberate policy of the PAP government to enhance the assets of Singaporeans to make them feel more rooted to Singapore—or perhaps more rooted to the PAP. The government also felt they needed to cater to increasingly affluent Singaporeans who expected not just a roof above their heads, but more frills thrown in.
In Singapore, almost 90 per cent of people live in public housing. This means that a broad spectrum of people, from the working class to some upper middle class live in HDB flats. It is impossible to have uniform policies across the board and meet everyone's needs. But that is pretty much what HDB is doing.
HDB should refocus on its mission to provide affordable housing for Singaporeans, and leave the frills to the private sector.
Segment the HDB market
This next proposal calls for a new class of the HDB flats to be created. For easier reference, I will call this new segment of flats Affordable Class (AC) flats, and the flats under the current rules Normal flats.
My aim is to provide an affordable alternative to Singaporeans who wish to own a new flat, while minimising the loss of value of existing flats.
This will be done by selling AC flats at prices pegged to three times the relevant median annual household income. For example, if the median annual household income of all current 3-room flat owners is $32,000, the median price of a 3-room AC flat should be $96,000, with up to 25 per cent adjustment made for location, orientation and storey height.
This will ensure that prices will remain affordable, as measured by the Median Multiple.
Since the objective of the AC flat scheme is to ensure affordability, there must be strict rules governing the purchase and resale of such flats to ensure that the scheme is sustainable and the benefits of their affordability will pass onto future generations of Singaporeans.
Some of these rules include restricting ownership to Singaporeans and long-term permanent residents (PRs); a cap on resale prices for AC flats to prevent runaway price increases; and disallowing AC flat owners from owning private properties or other HDB flats. Please see Annex for the full list of proposed rules.
Analysis of AC scheme
There could be several consequences of creating this new class of HDB flats.
It will definitely make the prices of new flats lower for first-time buyers. Pegging the price of flats to median household income removes the subjectivity and volatility of using the HDB's current market-based approach to pricing flats.
It gives buyers choice. Those who want to buy flats with no restrictions can continue to do so, while those who want affordability and can accept the restrictions will be able to obtain flats at below-market prices.
Some of those who are well-off enough to own private properties can exit from the AC scheme and leave it for their less well-off compatriots. The restrictions for PRs will ensure that only PRs who have demonstrated a commitment to Singapore will qualify for this subsidy.
Sellers of current flats should not see a drastic drop in their home values, because the AC rules apply only to a proportion of new flats. At the same time, even though AC flats are not for investment purposes, their values will still be protected against inflation, as in all likelihood, the median income should go up as the economy grows.
However, one of the downsides of this for existing home owners is that the price of Normal flats may go down gradually, as cheaper AC flats could put downward pressure on the price of Normal flats as more buyers opt to sign up for the scheme. This is a tricky political situation but in the long term, I believe it will work for the overall good of our next generation of home owners.
As for the cost of this scheme, without transparency from HDB about the cost of building each flat, it is hard to compute the exact cost. However, based on HDB's current selling price of new 3-room flats, each AC flat will be at least $45,000 cheaper. Depending on the number of such flats that may be sold each year, we could be looking at the government spending a few hundred million more per year to implement this scheme. In my opinion, this is a worthwhile expense—and definitely affordable for the government!
Conclusion
I have laid out in this presentation just a few suggestions on reining in unaffordable public housing costs for home buyers. It is a work-in-progress and by no means comprehensive. I welcome your questions later during the Q&A segment. Thank you very much.
Annex
Conditions for Affordable Class Flats
AC flats will have to comply with a more restrictive set of rules compared to Normal flats, namely:
Only for 4-room and smaller flats can qualify to be AC flats. All 5-room and Executive flats will continue to operate under IC rules.
Buyers can choose to buy new flats either under AC rules or Normal rules.
Upon the sale of an AC flat, the sale price must not exceed 5 per cent of the HDB valuation at that point.
There is no need for additional HDB housing grants for resale AC flats, as they are already subsidised.
The owners of AC flats cannot own private properties or other HDB flats; they must live in their AC flats and may not rent the flat out. This is in line with the principle that AC flats are subsidised public goods.
PRs will be allowed to buy resale AC flats, but only if they have been resident in Singapore for at least 5 years continuously prior to purchase.
All other HDB rules like minimum occupation period will remain.
———————-
Footnotes:
[1] Based on the HDB Resale Price Index, the median resale price rose 44 per cent between 1Q2007 and 4Q2009.
[2] COV doubles for HDB flats, Straits Times, 22 Jan 2010.
[3] Irene Ngoo, "More than 75pc can afford flats at new prices", The Straits Times, 25 May 1981.
[4] 2010 6th Annual Demographia International Housing Affordability Survey, Demographia International, http://www.demographia.com/dhi.pdf, p14.
[5] Ibid.
[6] Key Household Income Trends 2009, Department of Statistics, p5. Median Monthly Household Income for HDB 3-room resident households in 2009 was $2,660.
[7] Median Resale Prices for Resale Cases Registered in the 4th Quarter 2009, HDB Web site. The median resale price for 3-room flats in 4Q2009 was $260,600.