Committee of Supply debate: Ministry of Foreign Affairs, 5 March 2015
Mdm Chair,
Recent years have seen an escalation of tension over territorial disputes in the South China Sea. China has been increasingly assertive in its claims to islands that are hundreds of miles from its own borders but within the Exclusive Economic Zones of our ASEAN neighbours, Brunei, Malaysia, the Philippines and Vietnam. China also claims waters within its self-declared "Nine Dash Line" demarcation, which envelopes almost the entire South China Sea.
To assert its claims, China has been building airstrips and facilities, and reclaiming land, on and around these features. As The Economist[1] put it, the extent and speed of China's "building boom" on the disputed islands flout the spirit of the declaration on the conduct of parties it signed in 2002 with ASEAN.
Singapore is not a claimant to any of these disputes and has maintained that these disputes can only be settled by the parties directly concerned.
I appreciate that Singapore seeks to build friendly relations with all countries, including China. However, I am concerned that China's extensive and robust territorial claims may, now or in the future, infringe on freedom of navigation and overflight for vessels and planes travelling to and from Singapore. This could impact our trade with the world, which is a vital, and also our security.
The Minister has said before in Parliament that "only a united ASEAN can credibly play a central role in engaging major powers towards the common goal of promoting regional peace, stability and prosperity."
I would therefore like to ask, should the actions of China in the South China Sea infringe on the freedom of navigation and overflight for ASEAN members, including Singapore, what will Singapore do on its own as well as in solidarity with ASEAN to respond and protect our interests?
[1] "Reclamation marks", The Economist, 28 February 2015.
——-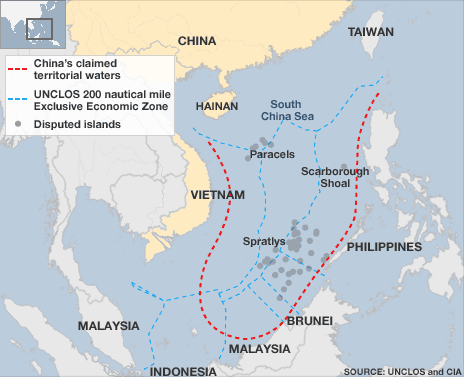 Photo credit: BBC News