During Question Time in Parliament on Monday (21 November 2011), I asked five questions on the issues of rental housing, MRT overcrowding, MediShield insurance premiums and claims, Medifund claims and healthcare costs vis-a-vis Singaporeans' household expenditure. Here are the salient points from the ministers' answers and debate.
Rental housing
I asked National Development Minister Khaw Boon Wan if his ministry would consider allowing those earning more than $1,500 a month to still rent flats from the HDB, but pay higher rental rates.
Currently HDB rules prohibit households earning more than $1,500 a month from renting from HDB, where they enjoy significant rental subsidies. The minister had said individual appeals from those earning slightly more than the threshold are allowed on a case-by-case basis. He said that the government preferred to encourage people to buy flats rather than rent. Citing statistics from recent sales of Built-to-Order (BTO), or new, HDB flats, he pointed out that new three-room flats were within the purchasing power of even households earning less than $1,500 per month, taking into account the housing grants available.
However, from my meetings with residents during meet-the-people sessions (MPS), I have encountered many who earn slightly more than $1,500 a month yet cannot afford to buy BTO flats. Some had just sold their flats, due to divorce or financial difficulty, and could not afford to pay the resale levy on the profits of their sale. Others needed housing urgently and could not wait for two to three years for the BTO flat to be built. In short, many of these residents are shut out of the BTO market and had no choice but to bunk in with friends or family in very crowded conditions. They would usually come to MPS when their friends or family members were threatening to evict them. Rental from the open market is not really an option, since they would need to pay over $800 just for a single room.
Hence my suggestion was to have a middle tier of public rental rates, somewhere in between the $200 or so that HDB currently charges and the $800 open market rental rate, for those who earn beyond the $1,500 income threshold but are not able to buy BTO flats.
The minister said his ministry will look into this suggestion and that he belongs to the "school of thought" which agrees that exceptions can be made for these families.
Transport
I reiterated the proposal that I had first made during last month's Parliamentary debates, on running MRT trains at frequencies of two minutes for the full duration of the peak periods (i.e., 7.00 to 9.30am and 5.30 to 8.00pm on weekdays), in order to reduce overcrowding.
The Minister of State for Transport, Josephine Teo, explained that the reason why this was not possible was because of insufficient trains. She said there was a significant lead time of several years from the time trains are ordered to the time they are delivered. I queried why advance planning wasn't done, and suggested that an option to purchase more trains be part of future contracts so that the procurement process does not need to be restarted every few years when passenger capacity increases.
MediShield
I asked Health Minister Gan Kim Yong for a breakdown of MediShield Basic premiums and claims over the past 10 years. His answer revealed that in each year since 2001, there have been much more premiums collected than claims paid out for this national health insurance scheme. Between 2005 and 2010, $2.11 billion in premiums were collected and $1.26 billion in claims were paid out. Yet the minister emphasised that MediShield operates on a not-for-profit basis and that premiums are actuarially calculated to cover all liabilities for current and future years.
Premiums

Collected

Claims

Paid

Required Change in Reserves to fund Expected Scheme Liabilities
No. of Claims

2001

$95.5m

$58.8m

N.A.

91,000

2002

$98.3m

$76.6m

107,000

2003

$98.7m

$76.8m

106,000

2004

$100.0m

$83.8m

115,000

2005

$185.9m

$87.7m

$274.4m

114,000

2006

$229.8m

$112.8m

$122.2m

136,000

2007

$238.9m

$137.4m

$209.8m

159,000

2008

$302.9m

$160.7m

$30.4m

177,000

2009

$372.1m

$214.6m

-$11.7m

207,000

2010

$385.6m

$248.6m

$152.6m

236,000
Medifund

I asked the Health Minister for a breakdown of Medifund disbursements over the past 10 years. From 2000 to 2009, Medifund disbursements increased from $17.6 million to $64.3 million. However, the number of applications has also increased, from 102,626 to 393,980.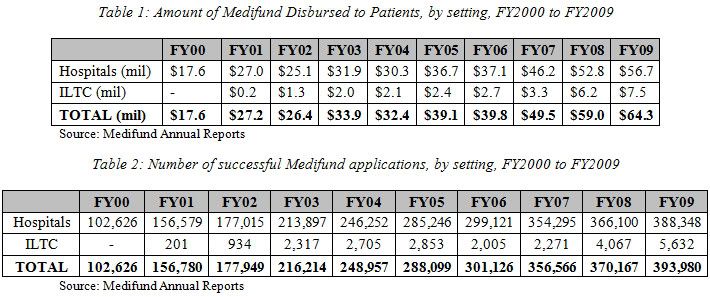 Healthcare costs as a percentage of household expenditure

And finally, I asked the Health Minister for the trend over the past 10 years of healthcare costs as a percentage of Singaporeans' household expenditure.
This figure had increased from 4.7% in 2002/03 to 5.3% in 2007/08. The annualised growth in household expenditure on health was about 5.8% from 2002/03 to 2007/08. (Note: In contrast, the annual inflation rate over this period was below 2.1% each year except in 2008, when it spiked at 6.6%.)