I feel sad to learn that the number of abortions in Singapore increased again last year to 12,222, compared to 11,933 in 2007 and 12,032 in 2006. Prior to 2006, it had been on a decline since 2000. About one in four pregnancies in Singapore is terminated through abortion. In Singapore, pregnancies can legally terminated up to 5 months (24 weeks) into gestation.
Singapore has one of the most liberal abortion laws in the world, thanks to the Abortion Act of 1969 and an amended Act of 1974, both of which — especially the second, more liberal law — passed easily in an all-PAP Parliament, despite the Whip being lifted to allow MPs to vote according to their consciences.
The primary motivation for legalizing abortion was to control population growth. Soon after the Singapore Family Planning and Population Board was established in June 1966, the Board recommended that abortion should be made available as a complement to the family planning programme1. After the Abortion Act (1974) was passed, the number of abortions shot up by a shocking 79% the next year. At its peak in 1985, there were 23,512 abortions in a single year, up twelve-fold from 1,913 in 1970!
All this is a national tragedy and a stain on our collective moral consciences. Furthermore, with all our concerns over the low local birth rate now, why are we letting these 12,222 would-be Singaporeans have their innocent lives snuffed out?
Contrary to popular belief, most abortions are not carried out on teenage mothers. In fact, only about 11% of abortions are performed on women below 20 years old. About 60% of abortions are requested by married women. That's about 7,333 aborted babies who would otherwise have been born into two parent families.
Why is it for expecting mums who intend to carry through their pregnancy, the foetus is "my baby" whom the mother would stroke, talk to, read to and even play classical music to; but in an unwanted pregnancy, the baby becomes an appendage in the body no different from a tumour – to be removed and dumped?
What's so different about a foetus at 24 weeks and a newborn at 40 weeks? At 24 weeks, the foetus has already developed most of its features. There have been instances of babies being born prematurely at 22 weeks and survived. In fact in the UK, there was a free (no Whip) vote in the House of Commons to lower the limit to 22 weeks. Three Cabinet ministers, who were Catholic, voted to lower it to 12 weeks. Sadly, the proposal was defeated 304 to 233.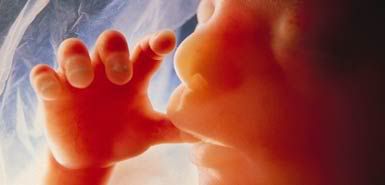 A foetus at 20 weeks (Lennart Nilsson/Reuters)
In my view, the 24-week foetus is a life worthy of protection, regardless of what mistakes his or her parents made.
There are of course the pro-choice arguments like what if the mother was raped? What if the child is deformed? Well all that doesn't change the intrinsic worth of the unborn baby, does it? In any case, I'm sure the number of abortions due to the above reasons don't figure much into the overall numbers. In the UK, 1.3% of abortions are for foetuses which are handicapped and 0.4% are for risk to mother's life.
Even US President Barack Obama, who is notoriously pro-choice, had indicated that he would try to reduce the abortion rate in the US. Has there been any attempt by the authorities here to do the same?
I don't mean reducing abortion by making it illegal. There are a host of alternative solutions that could make it less attractive for women to resort to an abortion.
For a start, I hope some academics or medical researchers here will do a more detailed study of the reasons why women here abort their babies, so that more can be done to assist these women before they go for their abortions.
I suspect the main reasons for aborting are economic and social. Economic, because many women may feel they cannot afford to look after another child with their limited income. Social, because teenage mums may be under pressure from their parents to abort because it will bring a loss of face to the family and the girl may have to drop out of school (leading to a further loss of face).
That being said, I think there are a whole lot of interventions that can be undertaken.
First, we need better social and economic support for single mums. Currently, single mums get no Baby Bonus, no Child Development Account, no HDB flat and no respect. If it's a choice between aborting the baby and getting on with your life; or keeping the baby and being looked down on and left to fend for yourself, which choice would you make?
Sure, I can hear conservatives making the argument that if you give all these benefits to single mums, they will all become welfare queens, giving birth out of wedlock just to claim these benefits. I think these will be the exception rather than the rule – unless they are really foolish and haven't figured out how difficult it is to raise a child, let alone on their own. In any case, why should the innocent child be denied the benefits given to other children, just because his mother committed a socially unacceptable sin?
Second, poor, married women need all the help they can get to raise their children. I mentioned earlier that 60% of abortions are performed on married women. Economic factors are probably at play here too. A US study found that poorer women accounted for a disproportionate number of abortions. In Singapore, government policies discourage lower income families from having too many kids. An example is the Home Ownership Plus Education (HOPE) scheme, in which assistance is conditional on the recipient having no more than two kids. We need to give more assistance to low income families with kids, not less.
Third, we need to make adoptions – both giving up a baby for adoption, and adopting a baby – more seamless and less bureaucratic. There are a lot of Singaporean couples who go all the way to China to adopt babies from orphanages. If we made local adoptions easier, wouldn't more of them adopt locally rather than from overseas?
I admit that none of these solutions are easily implemented and would require more careful study. But I really do hope that this study will be made, and that it would lead to more support for reluctant mothers and a lower rate of abortion in Singapore.
Our conscience demands it, and our dwindling population needs it.
(For more information on abortion and pregnancy assistance, please visit non-profit group Alife.)
---
1 The Population of Singapore, Saw Swee-Hock