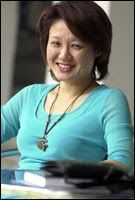 Workers' Party chairman Sylvia Lim asked several questions in Parliament yesterday, two of which touched on issues which have hit a raw nerve of many Singaporeans, namely the frequent flooding across Singapore and the security lapse at the MRT depot.
Ms Lim posed a question to the Deputy Prime Minister and Minister for Home Affairs about what role the Government plays in ensuring that security on public transport is not compromised. In response, Second Minister for Home Affairs K Shanmugam claimed that the role of the police is to only provide an 'additional' layer of security, when needed. He said that the primary responsibility for the day-to-day operational security of depots, stations and vehicles is that of transport operators SMRT and SBS Transit. Implicit in his statement was that his ministry is clearly not to be held accountable for the recent security breach at the MRT depot in Changi.
Ms Lim also asked the Environment and Water Resources Minister to clarify the 'confusing statements' in the media about the role of the barrage in the floods. The Minister said that because the barrage receives water from a large 10,000 ha network of canals and drains, areas located more centrally or further north could still be vulnerable to floods if the drains there do not have the capacity to contain water during an intense downpour.